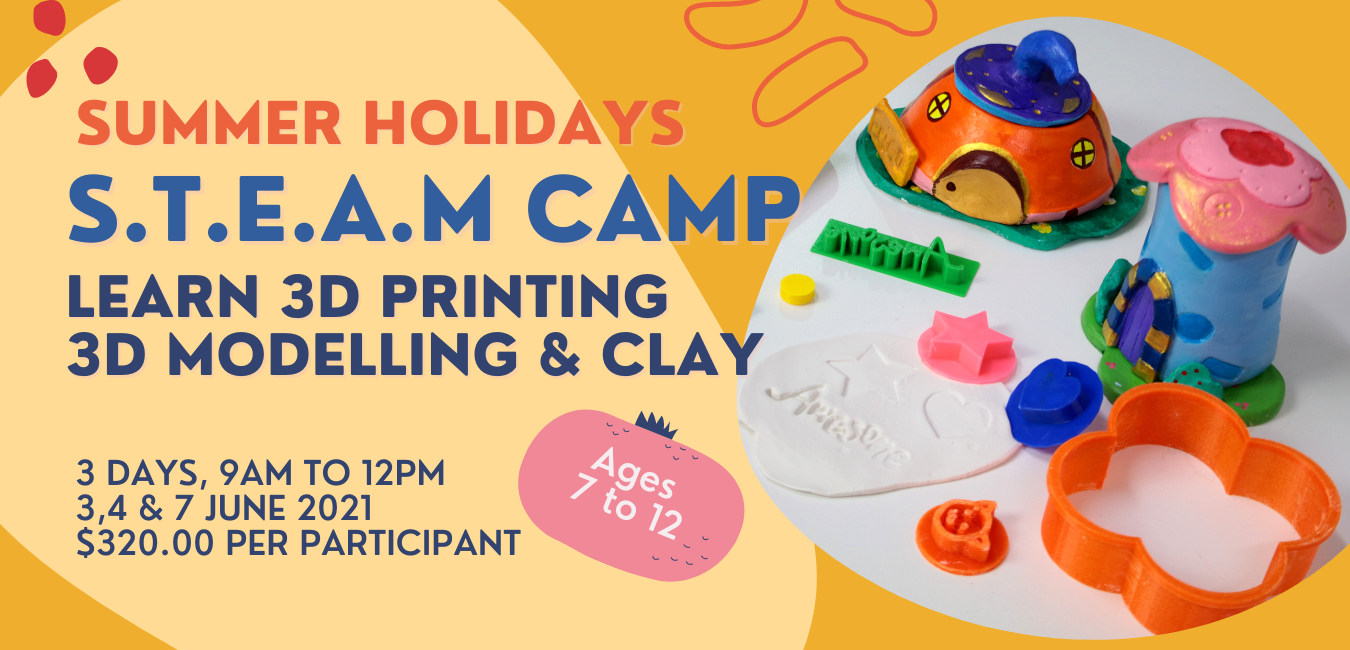 S.T.E.A.M stands for Science, Technology, Engineering, the Arts and Mathematics.
It engages students in experiential learning, teaches them persistance in problem-solving, embrace collaboration, and work through the creative process of design.

In this camp, learn the basics of 3D printing, 3D modelling and learn how to 3d print your own clay cutters!
Learn what 3D printing is all about, and how it can be used in your daily life.
Have a hands-on process in design thinking and learning to use a 3D Printer. Afterwards, enhance your art skills by creating a clay project with the cutter you have designed!

For Ages 7 to 12 (Primary 1 to 6)


Day 1: Introduction to 3D printing (3 June 2021)
What is 3D printing

3D printing process

Types of 3D printing

Learn 3D Modelling using Tinkercad
Day 2: Hands on 3D Printing & Clay modelling (4 June 2021)
How a 3d printer works

Preparing files to print

Hands on using 3D Printer

Building clay form

Details and stamping on clay
Day 3: Clay Activity (7 June 2021)
Painting

Short break

Painting/Fixing/Decoration

Drying and clean up
3 days, 9AM to 12PM, 3 hours each session
3,4 & 7 June 2021 (Thur, Fri and Mon)
$320.00 per participant
Every participant will bring back 3 3D Printed cutters and 1 clay project

Lessons will be held at 76 Playfair Road LHK2 Building Lobby 1 #04-01 S367996 (Beside Tai Seng MRT)



Learning Objectives:
Basic 3D Modelling software skills
Understand the process of 3D Printing
Understand the materials used in 3D Printing
Hands-on in using a 3D Printer
Basic clay sculpting skills